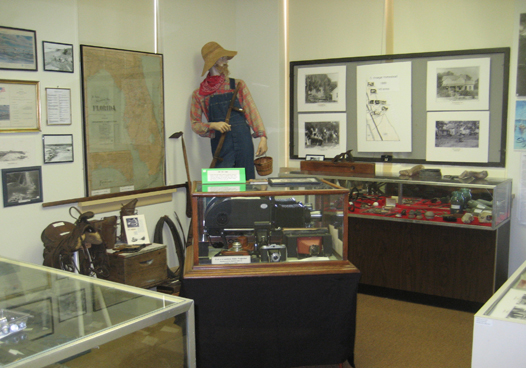 Go Back
Sebastian Area Historical Museum
1235 Main Street Sebastian, FL 32958
Get Directions
Some say that you can't understand a person until you walk in his shoes. Perhaps you can't understand a whole community either until you are aware of how its people used to live. Each chapter in its history builds on preceding chapters.
One way to find out about early Sebastian area settlers is to visit the Sebastian Area Historical Museum. It is located in the Historic Sebastian Elementary School, 1235 Main Street.
Before the Florida East Coast Railroad was built, the mail local throughway was the Indian River. Settlers in Sebastian chose to build their homes along the river edges. Later, Main Street, Indian River Drive, Central Avenue and Louisiana Avenue were Sebastian's main streets.
At the beginning of the twentieth century Sebastian was already an established fishing village, and there were 200 people living in the Sebastian and Roseland communities.
Sebastian has had a population surge in recent years. It is helpful to both newcomers and older residents to have a place to review what Sebastian once was as they work to retain its charm while meeting its current needs.
The Sebastian River Area Historical Society was formed in 1985 when a group of residents met with older residents of the area to learn as much local history as possible while there was still time.
The fruits of their first labors were two volumes of those stories known as Tales of Sebastian and More Tales of Sebastian. At the same time, many pioneer families donated photographs, legal records, clothing, and household items which were then stored wherever committee members could find space in their garages and sometimes under their own beds.
The Committee sponsored a number of fundraisers that brought even more community involvement and later a series of wintertime lectures that explored regional Florida history. In 1998 the Society opened its first museum at 700 Main Street and began arranging exhibits using the donated materials they had been collecting.
Demonstrations of pioneer arts and crafts drew many visitors to the museum on Saturday mornings.
That museum was severely damaged by Hurricanes Frances and Jeanne in 2004. It re-opened in 2006 with displays in one room.
It was not until November 2007 that a new museum and reference center was opened in the old Historic Sebastian Elementary School in the new Sebastian City Hall complex.
After the 1927 Elementary School closed in the 1980s it was used as the City Hall. Restoration of the building took place in 2005-06. Once again students walk the halls as a portion of the building is used for Indian River State College classes.
772-581-1380

Kid-Friendly